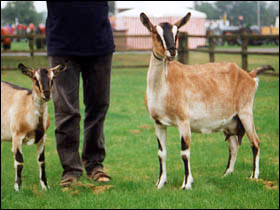 The aim is to breed a utility goat with all the qualities, which make an ideal smallholders animal, suited to the British climate and vegetation. The female should efficiently convert the latter into a moderate milk supply, over a long period, without the need for large amounts of concentrated feeds.
Coat colour is variable, mainly brown or grey, with a characteristic dark line "eel stripe" along the back. There are usually dark markings on head, legs and flanks; white patches are permitted, but Swiss markings are ideally absent.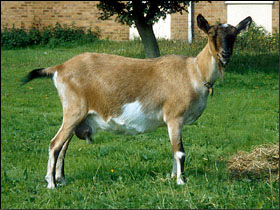 Hair length varies, frequently being longer in males. An underdown is often grown in winter. Hardiness, a sturdy body and a docile temperament, are important. The registration of English goats is carried out by the English Goat Breeders Association, a Registered Charity affiliated to the British Goat Society. Recent development of the breed has been largely due to selective breeding and inspection for type before registration. Some shows hold English classes; BGS recognised milking trials are available to English goats registered in the BGS Identification Register.
Further information from the EGBA website: www.egba.org.uk