Merchandise
BGS Merchandise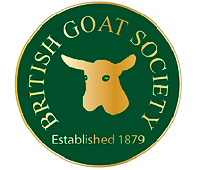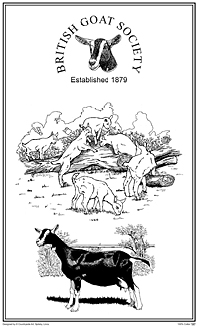 Price for badge (including P&P) £3.95 each (10 or more £3.50 each to affiliated societies/clubs, plus postage cost) Please request from Jane at the BGS office.
---
Price for Tea Towel including P&P £5.00 each (10 or more £4.50 each to affiliated societies/clubs, plus postage cost). Colours are either racing green or copper brown. Please request from Rachel at the BGS office.
---
Animals Transport Services
Equipment
Northern Dairy Supplies Ltd
Manufacturers and Suppliers of Dairy Hygiene & Udder Health Products

Milk Pipeline Sanitisers
Bulk Milk Tank Sanitisers
Moist Sanitised Dairy Wipes and Paper Towels
Udder Cream & Salves
Milk Filters
Hoofcare & Disinfectants
Fly Control

Delivered to your farm in large or small quantities.
See our website for the complete range www.dairyhygiene.co.uk
or Telephone: 01772 720358 (Preston)
The Tack Room
Livestock Showing and Handling Equipment SHOW COATS FOR GOATS Made to measure in quality cotton drill, choice of colours HALTERS Standard or Pygmy, made specifically for goats. Nylon web, 8 colours. Guaranteed fit. COLLARS & LEADS Quick release, adjustable, Nylon web, 8 colours, 2 widths, various lengths THE TACK ROOM, LLUGWY FARM, LLANBISTER ROAD POWYS, LD1 5UT Tel: 01547 550641 Web: www.llugwy-farm.co.uk
---
New goat DVD
'The Dairy Goat' DVD
Made from the original film by David and Patsy Sawyer' The original film was professionally made in 1959 and was loaned to clubs and other interested parties throughout the years. The perfect Christmas Present for all goat enthusiasts everywhere. The film has a touch of nostalgia but is as relevant today as it was then. Available from the office for £10.00 Plus £1.50 Post & Packing Send your cheque for £11.50, made payable to the British Goat Society to the Secretary, 42 Manse Way, Swanley Kent BR8 8DD. T: 01434 240 866 (please allow 14 days for delivery).
---