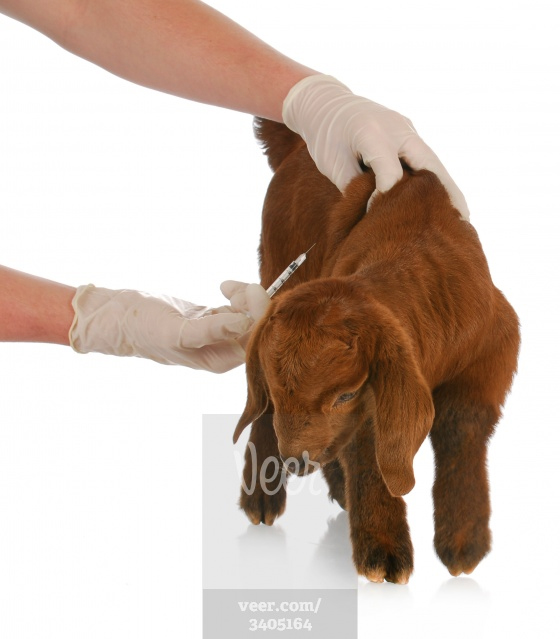 Can my goats be vaccinated & can I inject my own goats
Yes, routine vaccination by subcutaneous injection (under the skin), whatever the size of your herd, should be carried out to help prevent diseases caused by:
Clostridial bacteria, in particular enterotoxaemia (Pulpy Kidney Disease)
Tetanus
Most goatkeepers and farmers become very efficient in injecting their own goats but it is always best if you have never done this before to ask an experienced goatkeeper or your vet to show you how to do this – it can be quite a daunting task to undertake for the first time.
A clear demonstration and explanation of how to give both subcutaneous injections intramuscular injections and other veterinary procedures is given by John Matthews BVMS MRCVS in the video "Goat Husbandry and Health" with Hilary Matthews.
The recommended vaccine for use in the UK is the 4 in 1 vaccine, "Lambivac" marketed by Hoechst.
How often should I vaccinate my goats
Read any instructions given by the manufacturer prior to commencing and follow the storage instructions correctly. You can discuss a vaccination programme with your own vet. Below is Goat Veterinary Society recommended vaccination programme.
GOAT VACCINATION PROGRAMME FOR THE PROTECTION AGAINST CLOSTRIDIAL DISEASES AND TETANUS
DOSE
Primary Course
2 doses 4 – 6 weeks apart
2ml
Booster
Every 6 months
2ml
Kids from vaccinated does
Start at 10 – 12 weeks of age
2ml
Kids from unvaccinated does
Start at 2 – 4 weeks of age
2ml
Pregnant does
Booster 2-4 weeks before kidding
2ml
Will they have any reaction?
Lumps can occur after vaccination injections that may take 6 – 12 months to disappear. Abscesses due to, dirty needles and a lack of hygienic preparation can occur. Prepare all your equipment prior to starting to vaccinate your goats. In order to ensure a sterile dose for each goat insert a needle into the bottle of vaccine and attach the syringe draw out the amount of vaccine and detach the syringe attaching a new needle for each dose so you only puncture the dispensing bottle once. You must ensure the safe disposal of any needles, syringes and left over medication.
What other things might I have to look for as routine?
All goats should be checked for lice. They can cause tremendous irritation to your goats and damage to the skin, hair and cause anaemia. Suspect lice if your goat is abnormally fidgety and and has a dull scruffy coat. The lice can be seen with the naked eye. Pour-on products have been used with success but there are no licensed products for use on milking animals. Discuss treatment with your veterinary surgeon. This subject is covered in various books such as, 'Outline Of Clinical Diagnosis in the Goat' and 'All about Goats'. Up to date information may be obtained from the Goat Veterinary Society.